The call was made and the call was answered! My profound thanks to all that entered this year's contest. I'm proud to know that I inspired each of you to show off your own vision of vintage Star Wars love. And whether or not you made it to this stage: keep up the great work.
So it gives me great pleasure to present the eight finalists below. Please take some time to enjoy them and then register a vote for your favorite using the ballot at the bottom of this post. Feel free to add your thoughts in the comments section as well.
Voting in this contest ended Friday, February 8, 2013.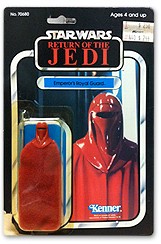 They've done their hard work, now it's time for you to do yours: pick a favorite. Good luck with that, 'cause I sure can't decide. Please don't forget the winner walks with a vintage 1983 Emperor's Royal Guard, still sealed to his original card. Fate is in your hands my friend!